Decorating Your Home Staircase
|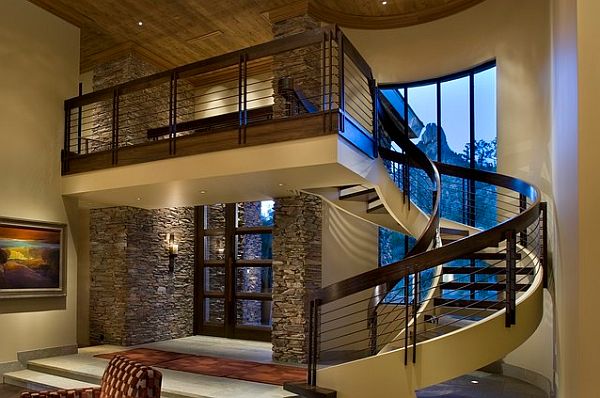 Do you want a hint of playfulness without making over an entire room? You can make one! You can change the look of your home by decorating your gorgeous staircase. Here are four modern staircase design ideas that can help you.
The Paint Job
Choose consecutive colors on the same paint strip. For the opening stairs, use five shades, on three stairs apiece. A small, angled brush is best for edges; use a larger brush to fill in.
Changeable Chalk-board Paint
You can bring out your prompt spontaneous creativity with a clean or artfully decorated slate. Go basic black or bold—chalkboard-paint colors span the rainbow. Clean this with a damp cloth rather than an eraser to minimize chalk dust and slippery stairs.
Make Wall Paper Waves
Consider cheating by adhering with double-stick tape instead of glue. Use a small smoother to eliminate bubbles, a single-edge razor to trim, and acrylic spray to protect against scuffs. All this stuff is available at hardware stores.
Add Beautiful Multiple Mini Mirrors
Addition of sheets of slightly irregular mosaic mirrors will bounce light around and add exotic flair. A trusted and skilled handyman is needed as tile cutter.
Create Inexpensive Faux Planked Walls
You can create the look of planked walls without the hassle or expense by drawing horizontal lines with pencil in the stairwell.
Use Stencils to Decorate
You can paint each staircase with different shade of contrasting colors with the walls. Add design and beauty with stencil designs.
Add One or Two Stripes
Classic stripes can add a crisp and clean look. These striped styles can bring plenty of charm without going much overboard with price.
Try Tape
Lovers of fanciful decorations can decorate their stairs with colorful adhesive tape to create a cool, waterfall-like design.
Show your Inner Animal
If you to bare your daring, experiment with a crazy print you can carpet your stairs with animal print.
Like the article? Subscribe to the Feeds Now!